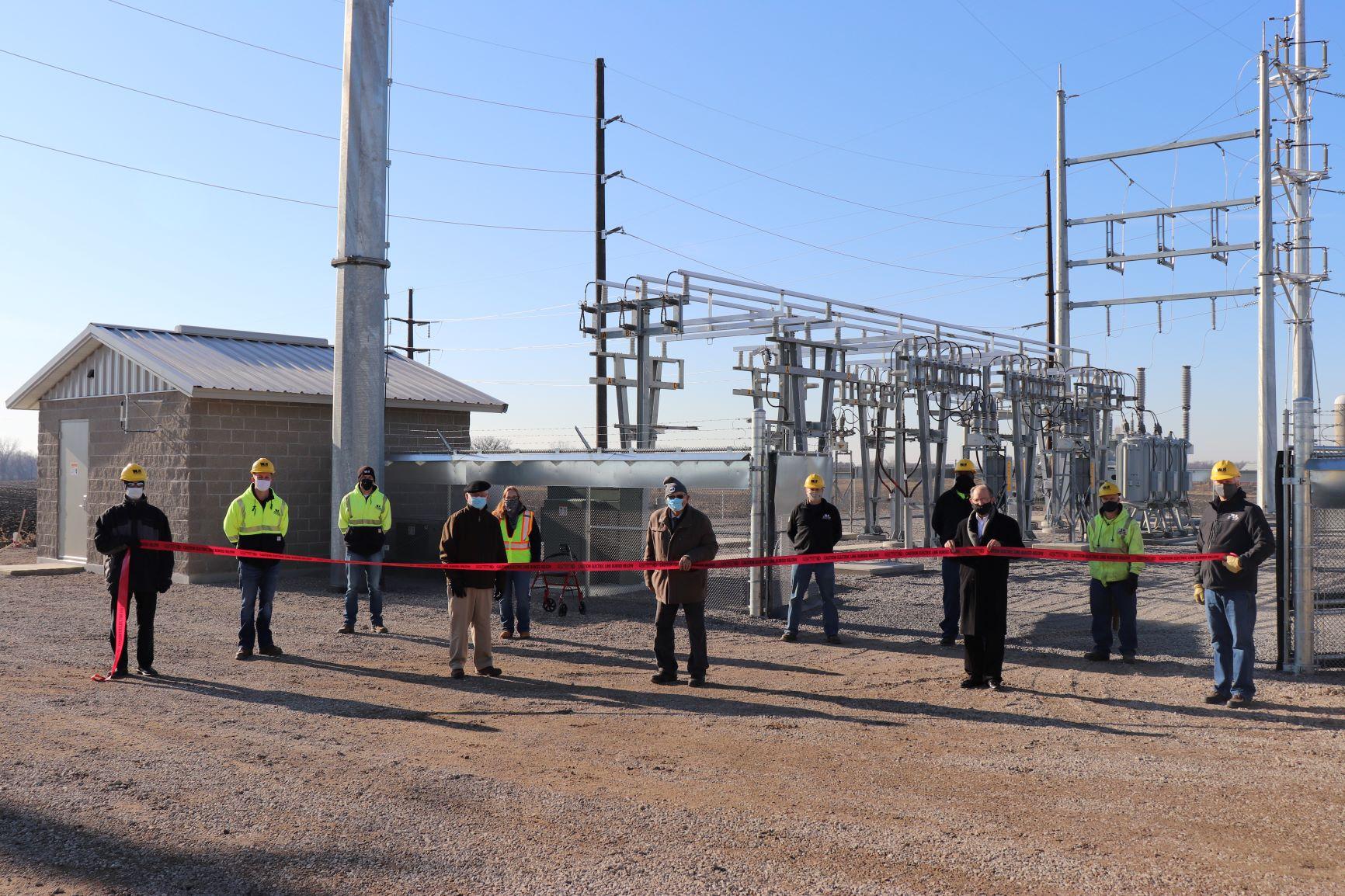 WH Substations
Substations are used to convert high-voltage power from the regional electric grid down to a level of voltage that can be safely distributed into neighborhoods, homes and businesses. The following information provides answers to frequently asked questions and updates on current projects.
How many substations does WH have?
What do they look like?
Substations with full landscaping look like the picture to the right. Most of the equipment is not visible through the tree coverage. This substation is in Maple Grove, Minn.
Is WH building any substations?
WH plans to build a new substation in Corcoran in 2022 to replace the existing substation (also located in Corcoran).

Why is a new substation in Corcoran necessary? 

There is an urgent need for additional infrastructure to facilitate the scale and scope of new development in the Corcoran area and to ensure reliability for current residents. 
With the recent population growth and projected growth of the Corcoran community, demand for electricity – an essential service to power homes, businesses, schools and overall quality of life – has increased and will continue to grow. In fact, WH electric services in Corcoran have grown by more than 30% in just two years and are expected to increase by 50% over the next five years.
Unless WH builds now, we cannot assure adequate reliability for Corcoran residents after 2022. 
The new substation will ensure WH will continue to provide reliable electricity to members in the Corcoran area for decades to come

What will the new Corcoran Substation look like? 

The property size is 5.30 acres
The substation size within a fenced area is .75 acres.
WH will dedicate 1.78 acres (33.5% of the land acquired) to the City of Corcoran to construct a linear park and walking paths.
The site will be professionally landscaped, including the maximum number of trees and shrubs given the space available. An artist rendering is shown below:

 

Where will the new Corcoran Substation be located?

The new substation will be located off County Road 116 and Larkin Road. The new site is noted with a yellow star. The current site is noted with a blue star.

Why did WH choose this new location?

A robust due-diligence process was completed to identify a site that met all the specifications for a new substation along with applicable zoning requirements.
More than 10 locations were considered, and at least 10 separate landowners were contacted by WH's legal counsel. 
The location of the proposed substation is consistent with the City of Corcoran's 2040 Comprehensive Plan.
This location was selected because it is: 

Located along an existing transmission line that has enough capacity to accommodate future residential and commercial developments. The existing transmission line borders two of the four sides of the parcel. Tapping into this existing infrastructure will provide long-term, major cost-savings for the co-op, our member-owners and the city.
Accessible to WH vehicles. Once constructed, there will be little traffic to and from the site. 
Accessible to existing distribution lines in the public Right-of-Way
In an optimal location in the WH distribution grid for serving the immediate growth and development needs of the City of Corcoran and delivering high reliability to current members. 
Large enough to accommodate flexible landscaping options.
Located on an undeveloped parcel of land. 

Why don't you build on to the current substation site?

The current location is land-locked and there is no ability to add on to the substation. It does not allow adequate space to meet the current long-range plan for Corcoran. (See picture above under "Where will the substation be located?")

Will the new substation be bothersome?

No. It will comply with all Minnesota local noise standards and ordinances and will adhere to all building and zoning requirements. 
This location will avoid the need for building new high-voltage transmission lines.

What is the status of the project?
Who is WH?

WH is a not-for-profit, member-owned, cooperative utility.
WH is proud to provide safe, reliable, and affordable electric service for rural Wright County and western Hennepin County.
WH's guiding cooperative values are centered on operating in the best interests of all members and the communities we serve.
Like our member-owners, we're also residents of the communities we serve and put local needs at the forefront of all our decision-making.