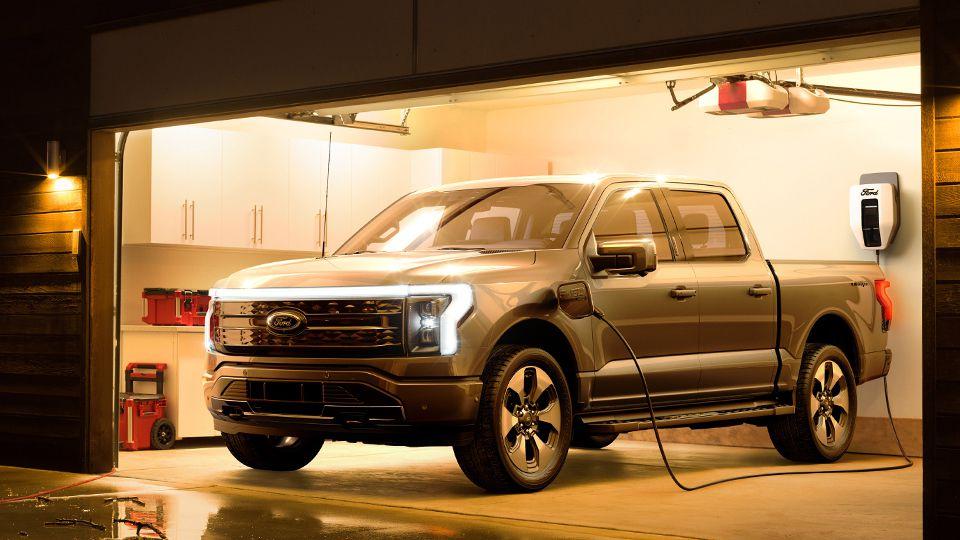 One of America's most popular vehicles just became electric
Recently, Ford unveiled its new all-electric F-150 Lightning which will be on roads in 2022.
Posted by Jeph Novak on June 16, 2021
Recently, Ford unveiled its new all-electric F-150 Lightning which will be on roads in 2022. Some have called the truck a game changer, with intelligent range, hands-free driving capabilities and even the capacity to power your home. With Ford making one of its most popular vehicles electric, it is an exciting time for truck drivers and EV enthusiasts alike. But what all does the new Ford F-150 Lightning entail?
As with any EV, most people are eager to find out how long it takes to charge and how far it can go on a single charge. The Ford F-150 Lightning has an estimated 230 miles with its standard battery pack, and a 300-mile range on a full charge with the extended-range unit that you can purchase in addition. These estimates take into consideration the truck towing 1,000 pounds of cargo. Without any cargo, drivers can expect anywhere between 350 – 400 miles on a full charge with the extended battery pack.
The range of EVs continues to extend. The average range of gasoline-powered cars in America is between 300 – 400 mile per tank. In many cases, EVs can drive just as far as gas-powered cars on a full charge, and the F-150 Lightning is no exception!
According to Ford, consumers can expect to charge the standard-range battery pack from 15% - 100% in 10 hours. It takes about 8 hours to charge the extended-range battery pack using an 80-amp Ford Charge Station Pro. The Lightning will be able to charge in 45 minutes using a 150-kilowatt DC Fast Charging Station, which is gaining popularity in homes and public charging stations around the country. If you choose to charge the vehicle with a different charger, such as the ZEFNET charging station, you may be eligible for rebates, and join WH's charging programs for discounted energy rates.
Apart from the exceptional charge times and range for an EV, the F-150 Lightning has a number of unique features that have a lot of people talking.
One of the most eye-catching features of the electric truck is the backup power capability, which allows you to use your car's charge to power your home for up to three days on a fully charged battery if the grid goes down. That's right: the F-150 Lightning doubles as a backup generator to keep your house up and running in an emergency.  The truck can power your home in an emergency through the Ford charging station or if you have a transfer switch installed in your home. If you have questions or want to learn more about how WH can help you set up backup generator capabilities in your home, call New Services at (763) 477-3000.
With six standard 120V outlets built into the truck, you can charge your phone, power your tools or plug in anything you need while you're out and about. Four of these outlets are found in the frunk – or the front trunk – of the truck. Given that EVs don't need all that room in the front for an engine or other equipment gas-powered cars do, they have more room for storage so you can carry your equipment in the bed of the truck and pack anything else you may need in the frunk!
There is also some serious power behind the Lightning. With enough torque to go from 0 – 60 in 4.5 seconds, this truck can really go. The F-150 Lightning boasts 10,000 pounds of maximum towing capacity and 2,000 pounds of payload capacity. With various drive modes, such as sport, tow and off-road, you can tackle almost any terrain or driving condition.
Ford's new EV isn't just a new take on one of the most popular vehicles in the country, it's a game-changer in automotive and electric technology. Wright-Hennepin is excited to see how the F-150 Lightning will impact the future of EVs. We strive to continue being your source of EV information, from purchasing a vehicle to getting rebates to charge your car. Read more about EVs on our blog to learn why the Ford F-150, or any EV, may just be the perfect purchase for your next vehicle. If you have further questions about EVs, give WH a call at (763) 477-3000.