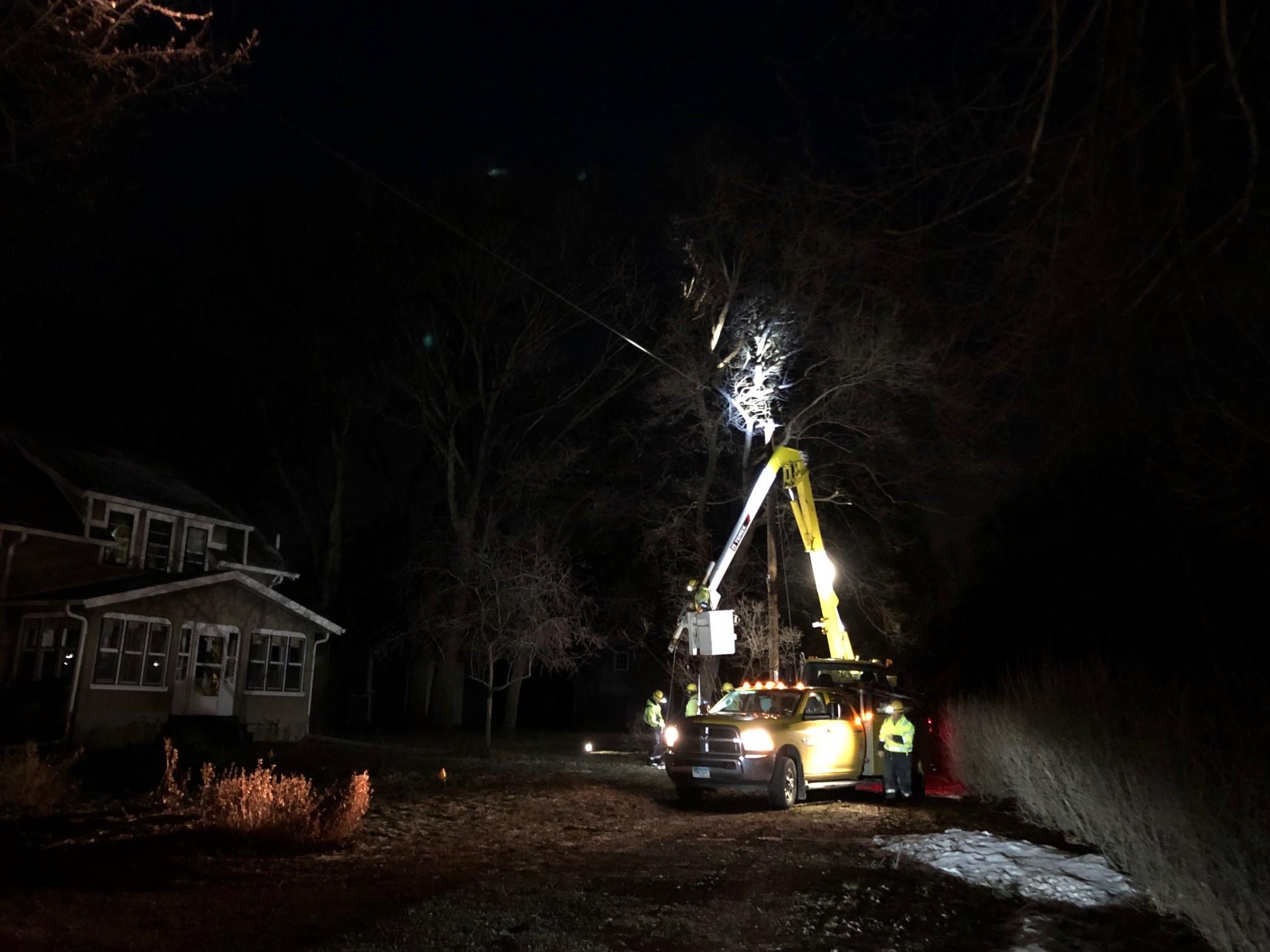 How does WH prepare for large outages?
Last summer we wrote a blog about what happens behind the scenes at Wright-Hennepin (WH) during an outage. But what happens when there's a big storm, creating lots of outages?
Posted by Lauren Dublin on June 19, 2023
Last summer we wrote a blog about what happens behind the scenes at Wright-Hennepin (WH) during an outage. But what happens when there's a big storm, creating lots of outages?
It all depends, explained WH's Operations Director Lee Nordby.
A major outage "doesn't necessarily mean a storm, just an anomaly day," Nordby explained.
When a major outage happens- usually a downed transmission line, or a substation problem, "at that point in time, when you have that large of an outage, you'll staff the outage with a couple crews," Nordby said. "You'll get your on-call crew or regular crews if it's during a regular day, you'll get two to three crews heading to that outage to ensure the safe and timely response, we may get four crews if it's a large enough outage that's going to require a lot of switching."
Switching means rerouting power around a problem so crews can safely work on equipment with less risk.
In the aftermath of a big storm, "realistically it's all hands on deck, meaning any crews available."
Outages are generally restored in a way that will bring power back to the most members at a time. Crews generally start with feeders, which support hundreds or thousands of members. From there, they'll move to tap lines, which provide power for about 50 to 150 members. After that they'll start work on transformers, which power five to 10 members, and from there work on individual services.
But efficiency is also a factor in the restoration process, since crews driving all around restoring power to, for example, only feeders, then circling back for tap lines wouldn't always make sense, and there are exceptions for members who have life support and safety critical services.
When damage is bad or widespread enough, WH can call for assistance, or mutual aid, from other co-ops and/or contractors to help get power restored.
"If (reports) coming back from the field are 'broken pole' after 'broken pole' after 'broken pole,' you're probably going to call for assistance sooner," said Nordby. "If it's 'wire down,' 'wire down,' 'wire down,' it's a lot easier to fix."
In turn, WH crews also occasionally provide support to other electric providers. Most notably this winter, several WH linemen traveled to Braham, MN to help another cooperative, East Central Energy, after a major winter storm in the area.
Preparing for major events days is a multi-department effort. Even departments like accounting can be involved. In the event of major outages that will require a multi-day restoration process, they can be tasked with finding food and lodging for any out of town crews that are called in to provide mutual aid to WH line crews.
When damage is bad enough, the Operations team also has to start looking into staging materials at substations or delivering materials right to the jobsites. Delivering material closer to the damage saves crews drive time.
WH's most recent memorable major event day was Memorial Day weekend 2022. At one point "we had well over 10% of our members (without power)," Nordby said.
Once a year, WH staff participate in an Emergency Response Preparedness drill. The team practices everything from notifying WH's power providers that power is being rerouted around a damaged substation, to writing press releases and social media updates, and have even hosted fake news conferences. Members of Wright and Hennepin Counties emergency management teams also attend to provide feedback at the end.
When you do experience an outage, you can keep an eye out for updates at outage.whe.org, as well as WH's social media, specifically our Facebook and outage Twitter account (link to both). Outages can be reported any time online or by phone at (763) 477-3100.
Finally, remember to always stay clear of downed power lines, and review some storm safety tips.