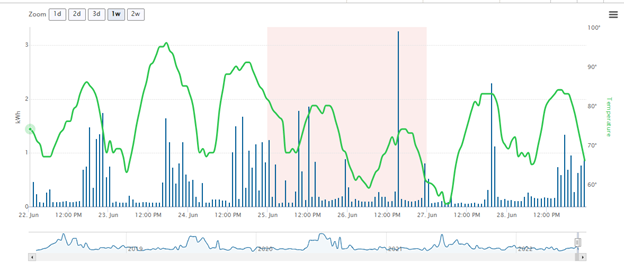 Monitor electricity usage with MyMeter
Being cognizant of your electric use is an important part of managing your bill.
Posted by Lauren Dublin on July 17, 2022
Being cognizant of your electric use is an important part of managing your bill. MyMeter is a free program available to Wright-Hennepin (WH) members. It allows members to set account usage alerts and receive outage notifications. MyMeter users can also track of their usage by month, day, or even hour.
From the home screen, users can find a bar graph showing their kilowatt hour (kWh) usage for the last two weeks, with a comparison to each day's average temperature. Users can add up to three additional comparisons, such as kWh usage at the same time last year or the billing period average kWh. The chart can also be adjusted to display by billing cycle, daily use, and often hourly use. Some WH members with MyMeter may not have hourly views available to them; this data depends on the type of meter installed on the residence and some meters don't have this technology yet. WH continues to roll these new meters out as the supply chain allows.
In the top left corner of the site, users can find a link titled "Data" that pulls up a handy color-coded chart showing total kWh usage each day. It's easy to re-calculate the chart by year, month, or week.
The Property link next to Data allows site users to fill in information about their home to offer energy use improvement suggestions. Members can fill in information ranging from the number of floors, bedrooms, and bathrooms in their residence all the way to how many incandescent lightbulbs they have installed to what type of windows they have installed.
From this tab, users can also enroll in the Energy Challenge! It allows members to set an energy saving goal each month for six months, and measure their progress against the same timeframe from the previous year. Signing up for WH Energy-Savings Programs are an easy way to help reduce electricity use during peak electric use times.
WH members can also set some at-a-glance widgets on the top of the page for an instant overview of their daily kWh usage, current vs. last bill comparisons, or even total usage over the last 12 months.
Clicking the Alerts tab in the top right corner also lets members sign up for outage alerts via text or email, and set usage threshold alerts. Many members with cabins, or even just backyard sheds with electricity, find this to be a useful feature to be sure everything in one place is running as it should be while they're at the other.
MyMeter also offers a link to WH's website to view or pay bills. Members can also call the automated phone line at (763) 477-3131 to make a payment any time, or talk to a member services representative during business hours at (763) 477-3000 to make a payment that way.
Watch this video about how to sign up for MyMeter. One simple signup takes much of the guesswork out of each bill! Of course, always feel free to reach out to WH's member services representatives with questions!